Compound of 5 Octahedra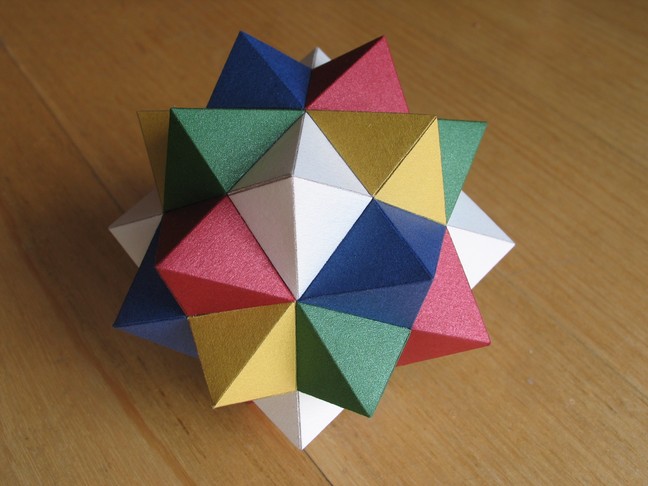 A compound of 5 octahedra. This model is provided in Small Stella, Great Stella and Stella4D's Polyhedron Libraries. It is a stellation of the icosahedron, and a faceting of the icosidodecahedron.
| | |
| --- | --- |
| | The compound of 5 octahedra is the dual of this compound of 5 cubes. |
| | The stellation diagram of the icosahedron, with the appropriate cells selected to generate the compound of 5 octahedra. You can create the compound yourself using Great Stella or Stella4D's stellation tools. |
| | Here we see how a single octahedron fits around an icosahedron. The compound consists of all fice octahedra that can be fitted around a single icosahedron in this way. |
| | Here's the facet required to generate the compound as a faceting of the icosidodecahedron. Again, you can create this easily with Stella's faceting tools. Remember to enable "Options→Maintain Reflexibility" as rotating the facet over the symmetry group would otherwise only generate half the faces. You need reflected copies of the facet too. |
| | The five octahedron compound contained with an icosidodecahedron. |
| | The nets printed onto metallic paper. |
| | One of the nets cut out. I also made an extra piece to fit inside the base of each part for added strength. |
| | Two finished spikes. You can see how the extra part fits in here. |
| | Two spikes attached. |
| | Continue adding spikes. |
| | Just five spikes to go. |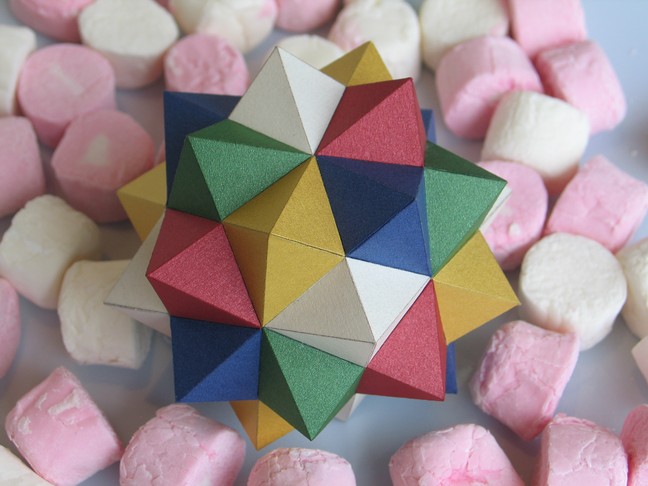 Copyright © 2001-2018, Robert Webb.