Great Rhombidodecahedron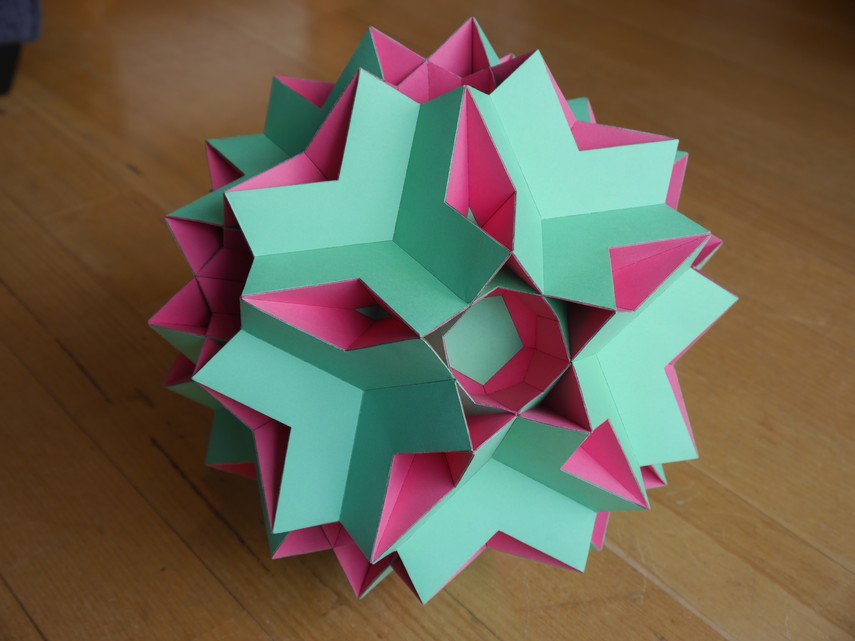 Vertex description: 10/3.4.10/7.4/3
Faces: 42
Edges: 120
Vertices: 60
External facelets: 612
Dual: Great rhombidodecacron
This model is the dual of the great rhombidodecacron. It has 612 external facelets, so expect this one to take a while! There are two squares and two 10/3 decagrams meeting at each vertex, in a butterfly pattern. It was a little over a month between starting and finishing this model, but I didn't devote a great deal of my time to it, so it could be finished much quicker. The intricate cups are mostly one colour (using one colour per face type), so the pieces join together well into bigger nets, which makes construction easier.
Sorry, no photos taken during construction this time because someone stole my video camera! It goes together more easily than I expected when you get to the end. I finished with a green piece.
| | |
| --- | --- |
| | The view down a 5-fold rotational symmetry axes. |
| | The view down a 3-fold rotational symmetry axes. |
| | The view down a 2-fold rotational symmetry axes. |
| | Here's a close-up shot of the detail in the model. |
| | And another detail picture. |
| | These three models are related to each other. They all share the same set of vertices and edges. Four faces surround a vertex in each model, and you may think of these as being two pairs, chosen from a set of three available pairs: (1) a pair of decagrams, (2) a triangle and a pentagram, and (3) a pair of intersecting squares. The great dodecicosidodecahedron has pairs (1) & (2). The great rhombidodecahedron has pairs (1) & (3). The great rhombicosidodecahedron has pairs (2) & (3). |
Copyright © 2001-2018, Robert Webb.