Topological Medial Rhombic Triacontahedron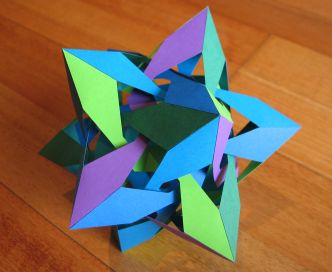 This is a stylized version of the Medial rhombic triacontahedron. The idea is that only true edges of the polyhedron should connect. The false edges that normally appear in a model where faces intersect but don't share an edge have been removed by hiding parts of each face, allowing the faces to pass through each other without collision. I call this a topological model, as it highlights the true topology of the polyhedron. This lets you better see the internal structure of the polyhedron.
| | |
| --- | --- |
| | Here's the solid version. Faces pass through each other creating what appear to be concave edges, but in the theoretical model those faces are not connected. |
| | Here's the model in Great Stella. It's not easy to make such a model, but with perseverance it is possible! In Stella the pieces have a thickness, but when printing the nets I only printed and used the big outer panels. Here is the .stel file (you need Great Stella or Stella4D to view this file). |
| | This shows one of the parts that will weave through each other. The part in the top left corner is what I use to attach five of the long parts together at a vertex. It's not hard to put together. The pieces feel very flimsy at first, but the completed model isn't too bad. |
| | Here's a close-up photo. From top to bottom, you can see how the purple part weaves above a dark blue part, under a light blue part, under a dark green part, and finally above a light green part. Every piece follows a similar pattern as it travels from one vertex to the next. |
Copyright © 2001-2018, Robert Webb.