Medial Triambic Icosahedron / Great Triambic Icosahedron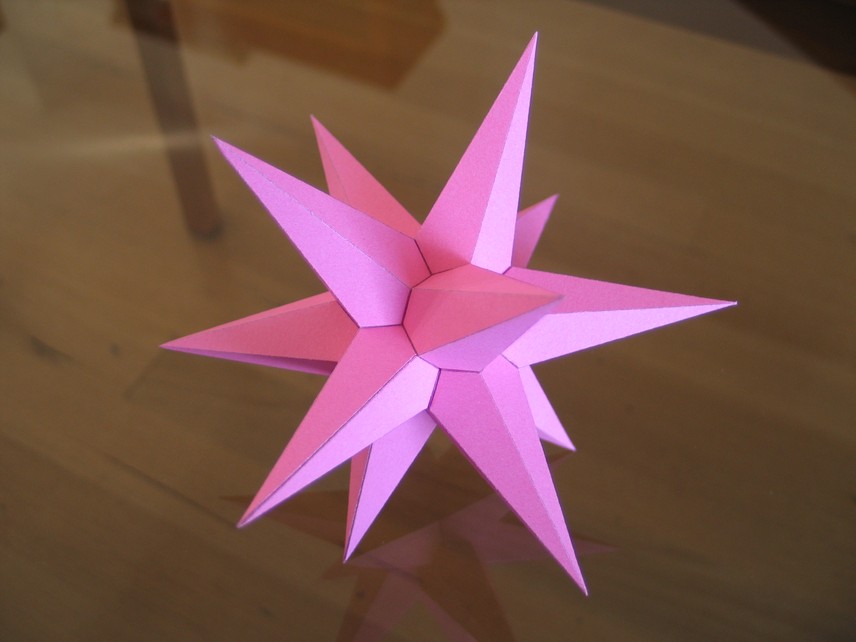 This model represents the duals of two different uniform polyhedra. The medial triambic icosahedron is dual of the ditrigonal dodecadodecahedron, while the great triambic icosahedron is dual of the great ditrigonal icosidodecahedron. The two duals have the same external appearance, but edges are traversed differently around their faces.
This model is also a stellation of the icosahedron.
| | |
| --- | --- |
| | To make sure the model was robust, I decided to build it using 12 of this part, designed in Great Stella using Faceting Mode. Drop to 5-fold pyramidal subsymmetry, open the dual stellation view and a faceting preview view. In Faceting Mode create the parts required around the remaining 5-fold symmetry axis. You can find the model for this in the Stella Library as "Parts/Medial Triambic Icosahedron Pt1". |
| | Here are some of the printed nets. We don't require the pentagon at the base of each part. We will build each part, then glue them together at the yellow triangles seen above. |
| | Here's a net scored, cut out, and creased. Note: we don't need tabs below the triangles as we are just using these to glue to each other. |
| | Two pieces constructed and ready to assemble. |
| | The 12 parts are glued together like the faces of a dodecahedron. This should make a far more robust model than we'd get by just gluing the externally visible parts together. |
Copyright © 2001-2018, Robert Webb.