Octahemioctahedron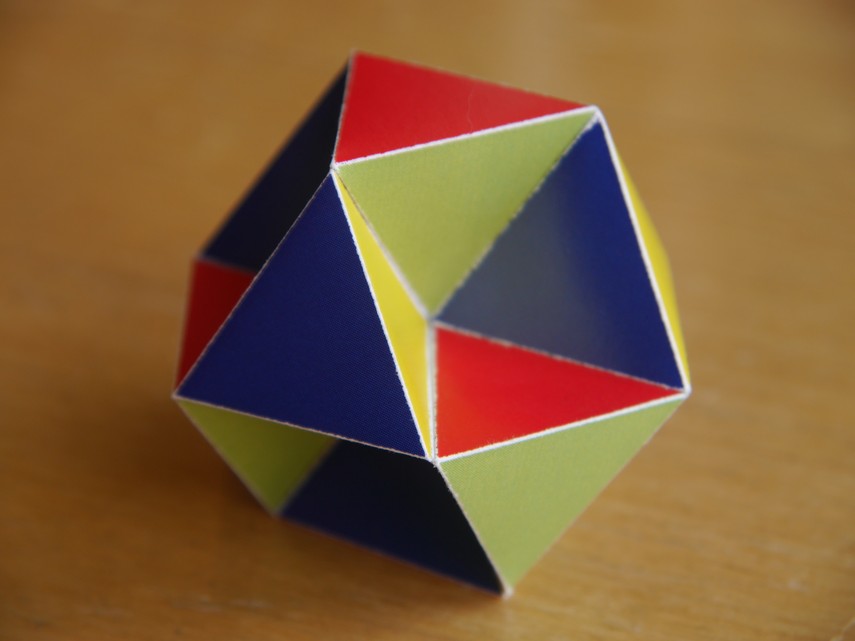 Vertex description: 3.6.3/2.6
Faces: 12
Edges: 24
Vertices: 12
External facelets: 32
Dual: Octahemioctacron (infinite)
Name breakdown:

Octa-: 8 faces (triangles) lie parallel to those of an octahedron
-hemi-octa-: Hemi = through the centre of model. Octa = faces (hexagons) parallel to an octahedron, but only half as many (4) because they're hemi
This model has two hexagons and two triangles meeting at each vertex, and all faces lie parallel to faces of an octahedron. It is a faceted cuboctahedron and also shares its vertices with the Cubohemioctahedron.
| | |
| --- | --- |
| | The nets for this model were printed from Great Stella using a colour printer. Each net creates a tetrahedron. Some care must be taken, since some edges of these tetrahedra should be glued with tabs out, and others left unglued with tabs in, for the outward-glued tabs to slot into. |
Copyright © 2001-2018, Robert Webb.