Stellation of Rhombic Triacontahedron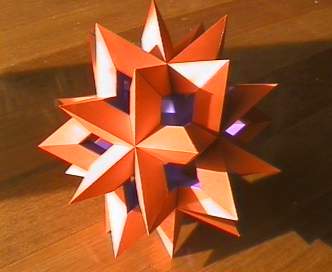 This model is a stellation of the rhombic triacontahedron. There is only one type of face in this model, but I have used two colours. Orange for parts visible on one side of the face, and purple for parts visible from the other side. I probably should have used a lighter colour for the more hidden parts, since they are usually in shadow.
| | |
| --- | --- |
| | I started by using the nets created by Great Stella, but realised after making a start that it was very difficult to glue them together. By default, it puts the four orange parts at each convex vertex into a single net. |
| | I decided to change direction half way through, and used "Selection>Mouse Selection Mode>Cut/Uncut Edges" to cut the nets into nets with only two pieces in them. Then it was much easier to reach inside with tweezers. |
| | For the rest of the model, I made dodecahedral parts, and used "Selection>Mouse Selection Mode>Create Facets" to create kites to fit inside the opening of each part. |
| | I used a hole punch to make a hole in each kite, so that tweezers could fit half in and half out to glue the kites in place. |
| | Now the parts can be glued together, dodecahedron style, with the kite from one part being glued to the kite of another part. |
Copyright © 2001-2018, Robert Webb.