Stellation of Rhombic Triacontahedron - "Sticks"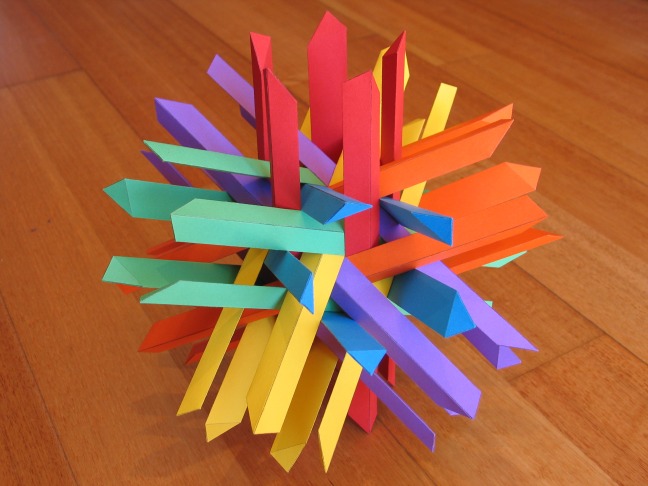 This stellation of the rhombic triacontahedron is made up of 30 sticks which weave through each other. They rest against each other but do not intersect.
For Great Stella users, this model can be found in the Stellations section of the supplied polyhedron library as RTC Sticks. There is also a non-plural version RTC Stick which contains just one stick along with the markings required to line up the other sticks.
| | |
| --- | --- |
| | Great Stella always creates nets based on just the externally visible parts, but this isn't necessarily the best approach. Here instead I created each "stick" separately then glued them together. To the left is the net for one stick. |
| | I created a model in Great Stella that would print the nets for one stick, but also print lines showing where other sticks would cross. |
| | Two completed sticks. |
| | Three sticks glued together using the guide lines printed on the net. |
| | Same again, but seen from below and close up. In the centre you can see three rhombi, which represent faces of the rhombic triacontahedron. |
| | A few more sticks have been added. |
| | About half way there. I glued each stick in place as I went, until the last nine sticks, which I slid into place first. It becomes quite hard to slide them into place towards the end and sometimes you need to slide another one out of the way temporarily to get it through. Once all are in place, I glued one in at a time, only applying glue to surfaces that will be in contact with another stick that is already glued in place. |
| | You can see the rhombic triacontahedron-shaped hole in the centre here. Soon to disappear forever. |
| | The view down a 5-fold rotational symmetry axes. |
| | The view down a 3-fold rotational symmetry axes. |
| | The view down a 2-fold rotational symmetry axes. |
Copyright © 2001-2018, Robert Webb.