Tetrahedral Stellation of Dodecahedron 2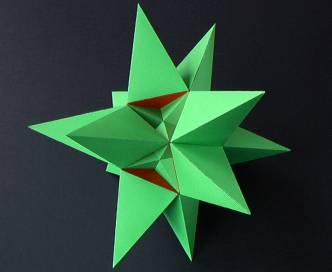 This model is a sub-symmetric stellation of the dodecahedron, having only tetrahedral symmetry. The model has outer peaks from the great stellated dodecahedron, but has gaps where you can see through to the inner small stellated dodecahedron, showing well how the standard stellations of the dodecahedron relate to each other.
| | |
| --- | --- |
| | I think the easiest way to finish the model from here... |
| | ...is like this, and then add the final pairs of peaks. |
Copyright © 2001-2018, Robert Webb.