Small Inverted Retrosnub Icosicosidodecahedron ("Yog Sothoth")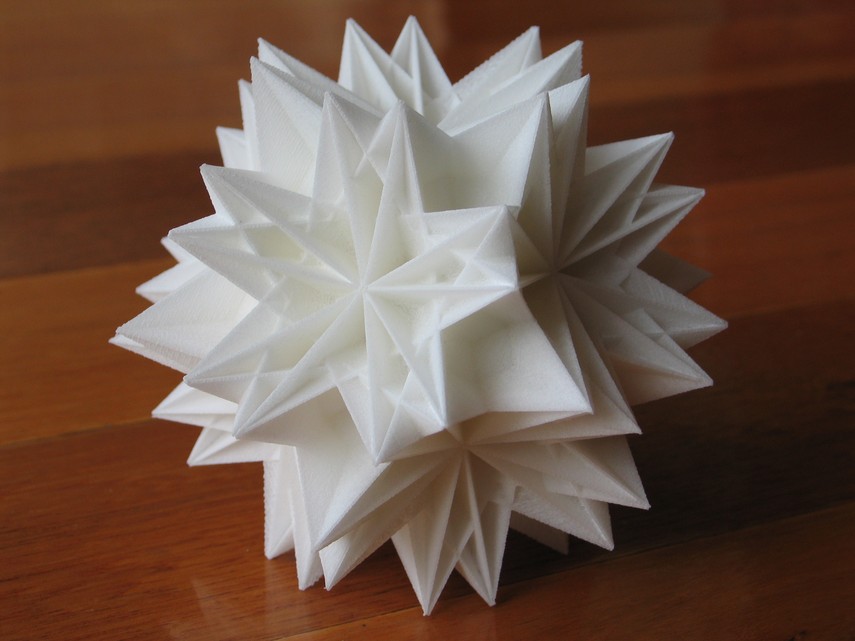 Vertex description: (5/3.3.3.3.3.3)/2
Faces: 112
Edges: 180
Vertices: 60
External facelets: 3060
Dual: Small hexagrammic Hexecontahedron
This model was made using SLA rapid prototyping, from an OBJ file exported from Great Stella. It has 3060 external facelets to put together, so I don't think I'll ever get around to making one from paper! Not many people have made a paper model of this polyhedron (maybe about ten?). I don't know whether anyone else has made one using rapid prototyping, but if not, this may well be the smallest model of this polyhedron ever produced.

It is a uniform polyhedron, but it is hard to make out the regular faces (triangles and pentagrams) as they intersect deeply through the model. Being entirely one colour doesn't help either! But it is quite a beautiful model.
| | |
| --- | --- |
| | The model is only about 10cm across. You can see its size here. |
Copyright © 2001-2018, Robert Webb.