Hello,
I'm interested in making the below polyhedra and having trouble finding the net in Great Stella. Is it correctly named?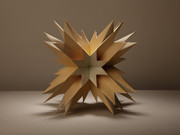 I found what is described as the same shape here:
https://polyhedr.com/fourteenth-stellat ... dron2.html
but it looks quite different.
It says it's a 14th stellation. Is there a way to step through each stellation? Also it's called an icosidodecahedron. I've searched all of these and not found it How can it have 4 x 90 degree angles in the centre if it's an icosidodecahedron?
Any help is appreciated. I don't use Great Stella regularly so I'm re-learning the interface each time. It's a bit overwhelming at times so I may have overlooked an easy solution.
Thanks,
Philip