RageRover Users' Guide
Teaching RageRover about your musical tastes
The screen-shot below shows where the names of your favourite songs/artists are entered.
Enter an artist name without a song name if you want to know when any song by that artist is on.
Enter a song name without an artist name to match a song of that name by any artist.
Or enter both a song and artist name to match that song only by that artist.
Then hit Enter or click the "Add" button to add it to the search list, which also appears on this screen.

Note: the window is resizable, and its size and position is remembered between sessions.
You can select an item in the list and hit Delete or click on "Remove" to remove it.
Clicking on "Search Now" shows you when your favourite music will be on. It's the same as clicking on the "Results" tab.
Seeing when your favourite songs are on
The screen-shot below shows when your favourite songs will be on (or were on). It shows matches from both Friday and Saturday nights in one simple list. Only songs matching your criteria are displayed in this list. All times should be considered approximations only, so if you're setting the VCR, remember to leave a good buffer around each song.

WARNING: When setting the VCR, don't forget that after midnight, songs on Friday night are actually on Saturday morning, and songs on Saturday night are actually on Sunday! I've made this mistake too many times!

When new playlists become available on Friday afternoon, RageRover will open automatically to show you the results. You don't need to remember to do anything (except turn your computer on). It will only be able to check if an internet connection is found though (perfect for broadband which is always on!). If you use dial-up, which isn't always connected, you may need to run the program manually each week.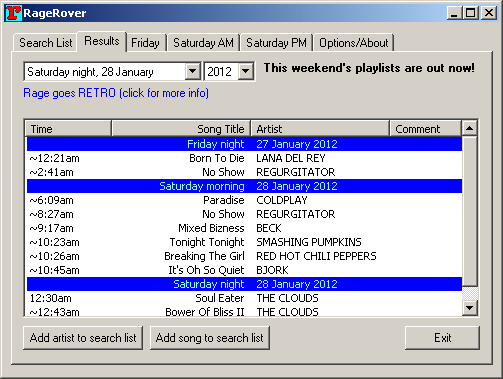 This window also tells you whether playlists are out yet for the coming weekend (they are available Friday afternoon). There is also a description of this week's special (usually a guest-programmer) which doubles as a link to more information from the Rage website (when available).
Drop-down lists let you choose older dates in order to view old Rage playlists. Note: each time you select a new date, the program must download the playlists for that week. They are small, so this doesn't take long, but there is a short delay. A local copy is kept however, so next time you view the same playlists it won't take any time at all. The local copies are kept in a subfolder called "Cache" in the same folder where the RageRover EXE lives.
Full playlists
Click the "Friday" or "Saturday" tabs to see the full playlists for that night. As shown in the screen-shot below, your favourite songs are highlighted, making them easy to find. There is a link to the online version of this playlist (on Rage's website), and again you can choose playlists from previous weekends.

This window also provides an easy way to add songs and artists you like to your search list. Select an item in the list and click either "Add astist to search list" or "Add song to search list".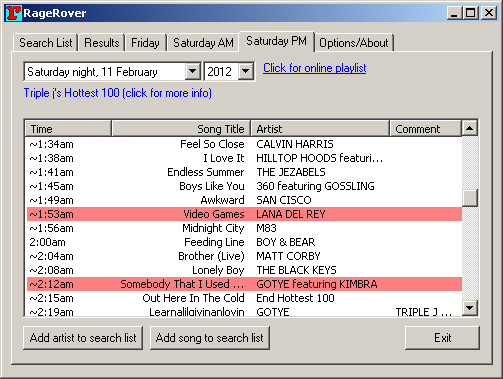 RageRover options
The "Options/About" tab shows some information about the program and provides a few options: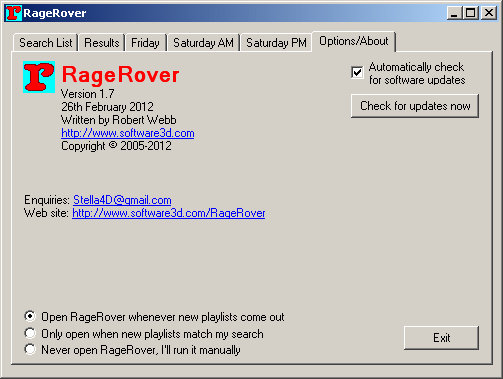 There is an option as to whether you want the program to automatically check for updates. There's no reason to ever untick this box, but some people don't like automatic update checks, so there you go. If you have a dial-up connection then it won't check for updates unless you were connected to the internet at the time of launching the program. Click "Check for updates now" in that case next time you're connected, if you want to check for new versions.
At the bottom of the window are some options allowing you to choose when RageRover should open automatically. You may want it to open whenever new playlists become available, or only when the new lists include songs you're interested in, or you may never want it to open automatically.
For a bit more information that isn't listed here, see the FAQ.
See all my products at http://www.software3d.com
Copyright © 2001-2018, Robert Webb.
Rob's personal home page.