Great Hexacronic Icositetrahedron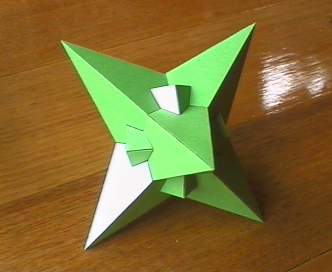 Dual of the great cubicuboctahedron.
This is a model I made without any internal support, using only the visible parts you can see, and as a result the model is quite flexible. If I was to do it again, I'd build the model first without the smaller peaks, then add them as separate parts. That might be more robust, and less fidgety to put together. A few other internal supports wouldn't go astray either.
This model is part of a set of three duals models I built, coloured to show the relationships between them. The two-coloured model (great strombic icositetrahedron) can be seen to be a compound of the green model (great hexacronic icositetrahedron) and the blue model (great rhombihexacron). One face has been coloured white in each model to highlight the shape of the faces. Notice that the face of the compound model covers both green and blue parts. All three of these models are stellations of the triakisoctahedron.
Copyright © 2001-2018, Robert Webb.