Final Stellation of Triakis Tetrahedron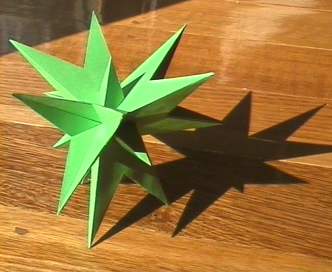 This model is the final stellation of the triakistetrahedron.
| | |
| --- | --- |
| | This picture shows the triakistetrahedron sitting on its final stellation. It fits snuggly in the cup because the faces of the stellation are really just the faces of a triakistetrahedron extended out through a vertex. |
| | I suggest you don't knock your polyhedra to the floor and then stand on them, they tend to get dents in them like this one. |
Copyright © 2001-2018, Robert Webb.