Great Rhombihexahedron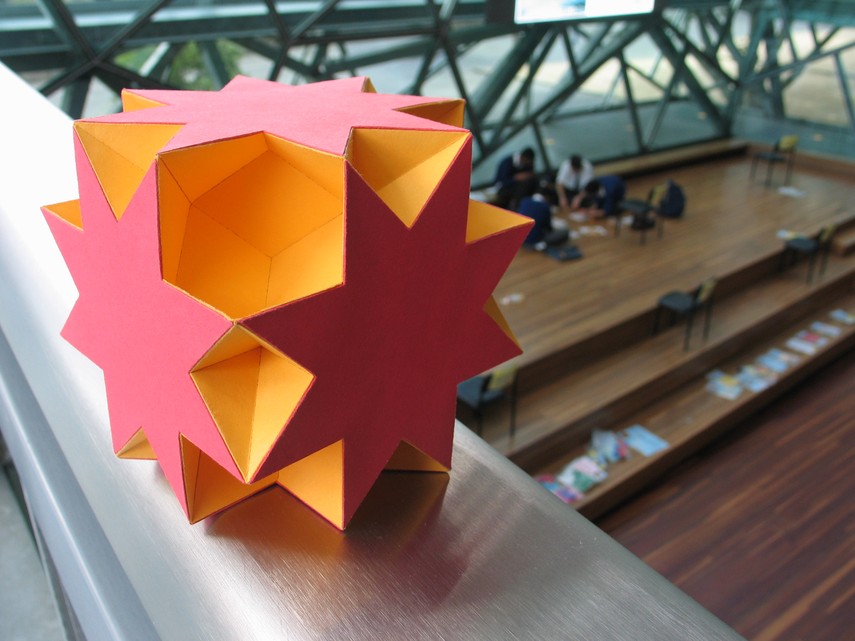 Vertex description: 8/3.4.8/5.4/3
Faces: 18
Edges: 48
Vertices: 24
External facelets: 126
Dual: Great rhombihexacron
Name breakdown:

Great: To distinguish polyhedra that would otherwise have the same name.
Rhombi-: 12 faces (squares) lie parallel to those of a rhombic dodecahedron
-hexa-: 6 faces (octagrams) lie parallel to those of a cube (also known as a hexahedron)
A uniform polyhedron whose faces consist of 6 octagrams (red) and 12 squares (yellow). It is a faceting of the truncated cube, that is, it shares the same vertices. It also shares the same vertices with the great Cubicuboctahedron and the great rhombicuboctahedron. In fact all but the truncated cube share the same edges too.
This model sat half finished on the shelf for several months while I tried to find more of the paper I'd started with! The moral is: make sure you've got enough of the paper you need before you start! You might even want to make sure you've got some extra sheets in case something goes wrong, or you decide to use different nets for the final piece.
Copyright © 2001-2018, Robert Webb.