| | |
| --- | --- |
| | A Genus-41 Stewart Toroid |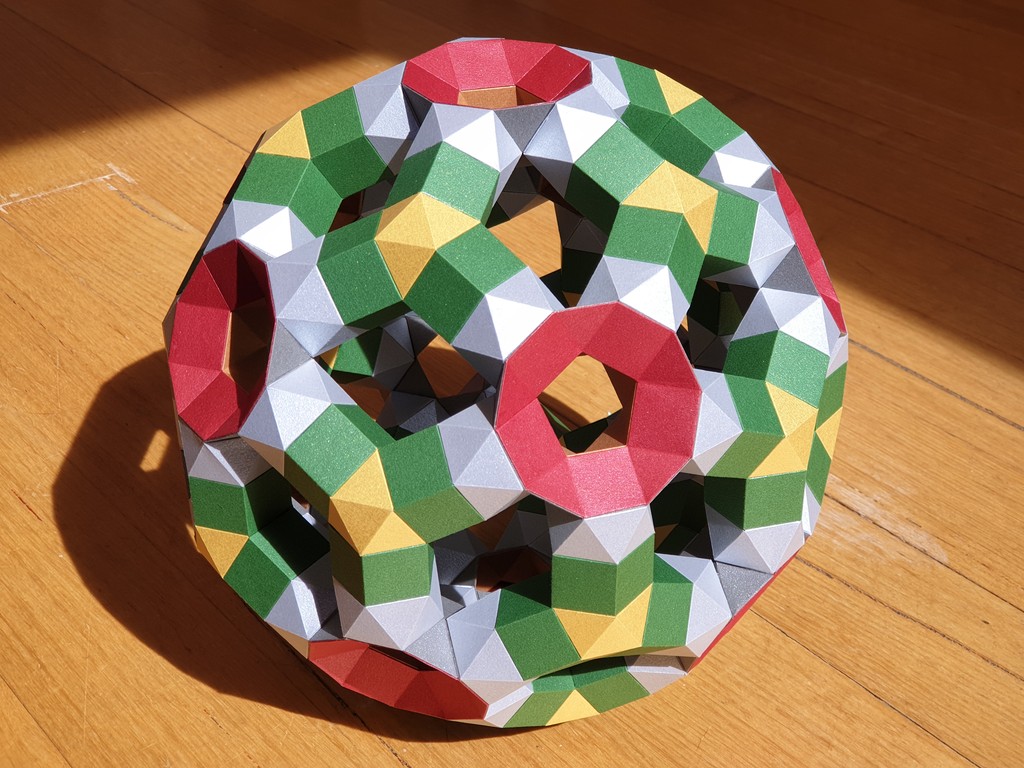 This model was made using SLA rapid prototyping, using an OBJ file exported from Great Stella. The polyhedron is one I discovered myself. I was trying to extend on something B. M. Stewart had started in Adventures Among the Toroids. In that book he explored polyhedra with non-intersecting regular faces and genus greater than zero (i.e. with holes), and proposed five criteria to help narrow the search. His preference was for polyhedra where each edge of the convex hull was also an edge of the polyhedron itself. This requirement sounds a bit obscure at first, but after playing around with it you get the idea, and it does generally lead to more aesthetically pleasing polyhedra. He noticed though that this requirement almost always meant that the faces of the convex hull were also regular, so he looked for examples where this wasn't the case.

He only came up with a couple of examples, but they weren't very satisfying, broke some of his other requirements, and had low symmetry. More recently, Alex Doskey discovered four new polyhedra which satisfied all the criteria and were much more in the spirit of other Stewart toroids (click here for one such model). They all had octahedral symmetry. This prompted me to look for more, and in particular, to see if I could find examples with icosahedral symmetry. I did find four more examples with octahedral symmetry, as well as four new examples with icosahedral symmetry (including the one shown here). They are all available in Great Stella's polyhedron library (the one shown here is Stella Library > More Stewart Toroids > 12(J6-Q5S5) + 20J63 + 60S5 + 60P5).
| | |
| --- | --- |
| | This is the convex hull of the model. You can see that some of the faces (the yellow dodecagons) are not quite regular. All edges are equal length however, and are also edges of the toroid. This convex hull makes quite a nice near miss (almost a Johnson solid). |
| | Close-up of the model. |
| | The model is only about 10cm across. You can see its size here. |