| | |
| --- | --- |
| | Tetrahedral Stellation of Dodecahedron 1 |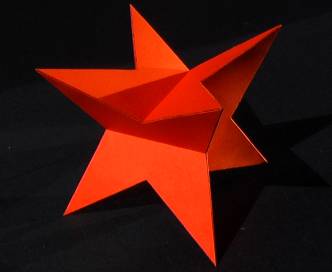 This model is a sub-symmetric stellation of the dodecahedron, having only tetrahedral symmetry. It is quite hard to visualise, but all the faces lie in the same planes as the faces of a regular dodecahedron. The points may be thought of as 8 of the 20 points of a great stellated dodecahedron.

This is also the shape you get if inscribe a cube in a dodecahedron, cut off the 6 "tents" to leave just the inscribed cube, then flip the tents over and extract them from the cube faces instead. My dodecahedral shape-shifter demonstrates this.